It's unreal how much I loved this stuff. But seriously, guys, take a look at this.
I'm sure you've all seen this display in your local grocery store. If you're like me, you've knocked it down with a cart a time or two in an overeager excitement to get to the oatmeal down the cereal aisle. But when BzzAgent offered me the chance to sample this new confectionery delight, how could I possibly say no? Free chocolate? I'd be crazy
not
to!
I made my way to my local Kroger and selected two bars of chocolate for my taste-testing needs. I went with, firstly, the "Unreal 5," a bar with chocolate, caramel and nougat. It comes in a delightful red wrapper, like so: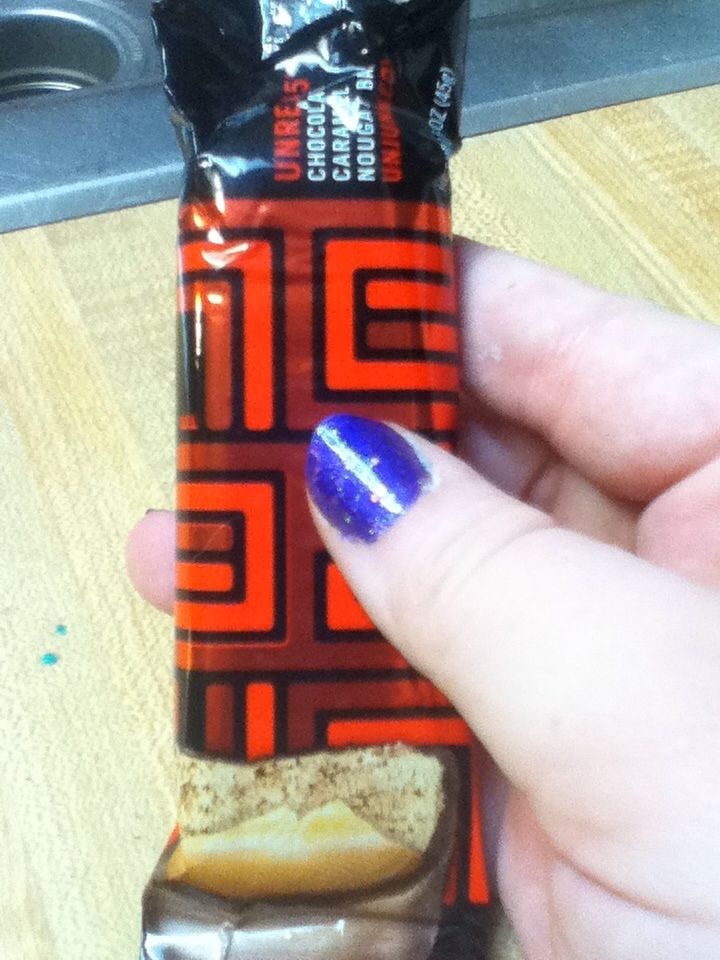 That's some good stuff!
My other selection was "Unreal 8," which consists of chocolate, caramel, nougat and peanuts. If you can't tell, I am a huge fan of caramel. Om. Anyway, my other friend is purple and looks like this:
My two favorite colors are purple and red, so this felt apropos somehow.
What I found really neat about this campaign is that the back of each wrapper boasts the nutrition facts, but not in the secluded "shh, it's not healthy and they can't know about it!" way so many other candy bar manufacturers do. The Unreal bars put them in a fun, block-style numbering that makes it easy to read and consult right there in the candy aisle!
My abhorrent kitchen lighting got a bit in the way, but you get the idea.
Upon opening the bars, I was greeted with a lovely chocolate feast. Unfortunately the #5 bar got a bit smooshed on the shelf, and I have a bit of a habit of picking up damaged goods on purpose (I own way too many stuffed animals I "felt sorry for" as a child and just had to bring home, for instance). So the photo of the red bar here might be a bit more mashed-up than most normal Unreal #5 bars.
Afternoon delight
I began my conquest with the red bar, Unreal #5. I bit off the piece of the bar that had broken off in transit and was pleasantly affected: it was definitely different, but not in a bad way at all. The chocolate tasted a little chalky, which I admit was slightly off-putting, but then I got to the caramel. Oh, heavens. That was some good caramel: creamy, stringy, the consistency most of us wish caramel could be all of the time.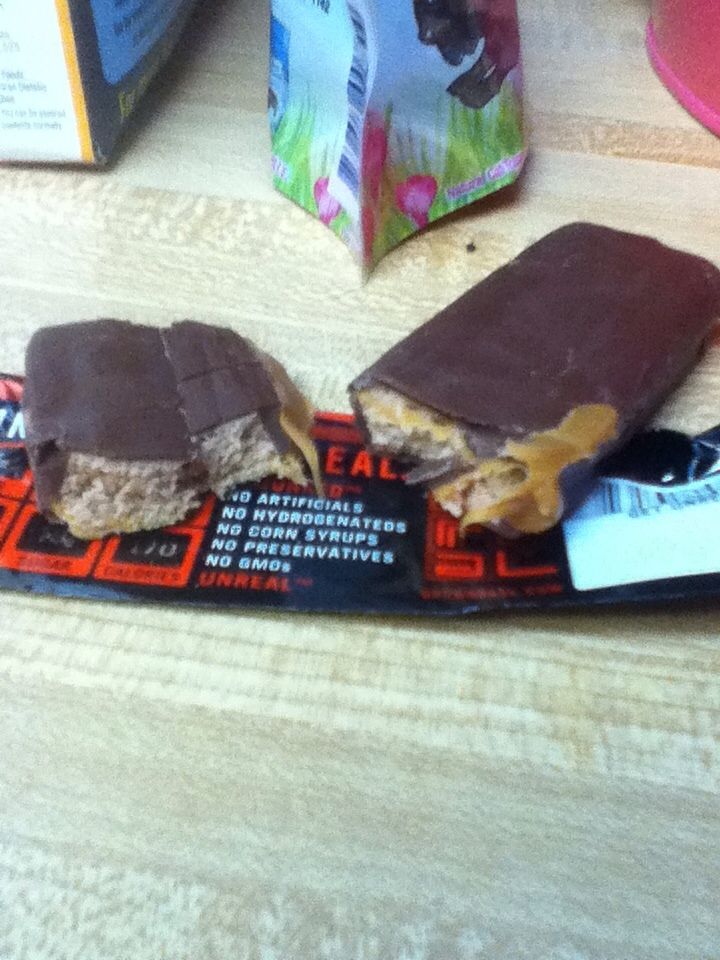 Just look at all that gooey goodness!
I was very curious if Unreal #8, my purple friend, could live up to expectations after the heaping praise I'd just slammed Unreal #5 with.
It did.
The peanuts added just the right amount of salty taste to the texture of the chocolate and the gooey caramel, and what resulted was what Snickers wishes it could be: you could taste the different flavors and textures, but it wasn't a bad thing, really it just added variety. I was shocked that something like this could taste so good - a lot of times, the "natural" stuff just doesn't taste quite right, and I know you know what I mean, blogland. This, however, was a game changer all around!
Mmmmmm.
I gave a couple of coupons out to friends who also wanted to try the bars, and they reported back similar results. It seems that all around, the Unreal campaign is a great way to "unjunk" candy, indeed!
PROS
- Interesting, fun wrapping
- Clearly labeled nutritional information that isn't too bad considering what you're eating
- Delicious caramel
- Did I mention the caramel?
CONS
- Not too sure what's up with the naming system - you'd think they would have come up with some sort of sassy name instead, not just "#5"
- The chocolate felt a little grainy/out of place, but it wasn't enough to keep me from eating the stuff, to be sure!
Go get unjunked at your local supermarket, store or wherever the aisles are narrow enough to cause a 3-cart pile up as you knock down a display stand! Tell 'em Patricia sent you.